It's that time of year when people make lists in preparation for the beginning of fall: book lists, Halloween costume lists, ingredients for mulled wine, cool tattoo ideas, premature New Year's resolutions, and literary awards finalists. Here's our own list of some pretty great lists!
First, some big wins: Contributor Sinéad Morrissey (9.1, 9.2) won the (£10,000!) Forward Prize for Best Collection for her book, On Balance (Carcanet, 2017).
The Best New Poets finalists chosen by Natalie Diaz include Paige Lewis (13.1), one of our nominees this year! Also on the list are two other contributors, Leila Chatti (14.2) and Meghan Maguire Dahn (12.1), as well as University of Cincinnati PhD student Madeleine Wattenberg. Congratulations, poets!
And Jensen Beach (9.2) won the 2017 Vermont Book Award for his novel, Swallowed by the Cold (Graywolf, 2016).
Looking ahead: The Booker Prize has announced its shortlist, made up of three UK authors and three Americans (George Saunders for the win, we hope!).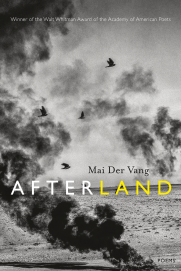 The semifinalists for the National Book Award have also been announced, of which almost HALF are first-time authors with books by indie or university presses. Included in the longlist for poetry is Afterland (Graywolf, 2017), by Cincinnati Review contributor Mai Der Vang!
Speaking of previous contributors, Steven Wineman's essay "Erving and Alice and Sky and Elisabeth," which appeared in issue 12.2, made the list of notable essays in The Best American Essays 2017. Wineman also has a novel, The Therapy Journal, forthcoming in October from Golden Antelope Press, with a plot element related to his essay in our pages.
In other news, the Whiting Foundation announced new grants  for nonprofit magazines intended to "acknowledge, reward and encourage organizations that are actively nurturing the writers who tell us, through their art, what is important." The three grants, which will total up to $120,000, are open to small and medium-sized magazines, both print and online.
Additionally, to supplement our reading for The Cincinnati Review, there's some new work out there we can't wait to check out, including Alissa Nutting's Made for Love, Carmen Maria Machado's Her Body and Other Parties: Stories, Jesmyn Ward's Sing, Unburied, Sing, Molly McCully Brown's The Virginia State Colony For Epileptics and Feebleminded, and Marcus Wicker's Silencer.
Perhaps less serious but equally worthy of literary consideration, there were dancing Handmaids at the Emmys (and Margaret Atwood's purse got a lot of press).