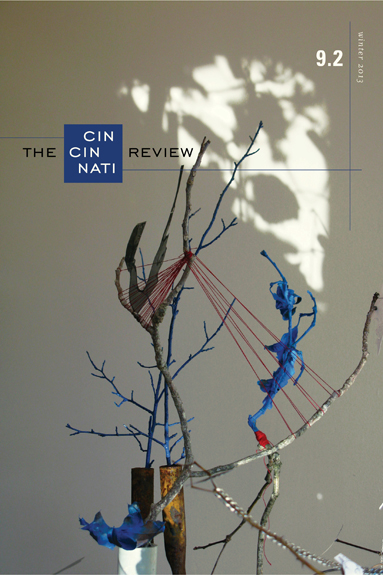 Fiction
Lauri Anderson Alford, Brian Conn, Margaret Luongo, Colleen Morrissey, Jenn Scott, and Hugh Sheehy.
Poetry
Talvikki Ansel, Monica Berlin, Michelle Boisseau, Travis Brown, Alex Chertok, Jo Ann Clark, Peter Cooley, Ruth E. Dickey, Regina DiPerna, Jehanne Dubrow, Claire Eder, Angie Estes, Alan Feldman, Brandel France de Bravo, Allison Funk, Crystal S. Gibbins, Heather June Gibbons, Naomi Guttman, Amorak Huey, Allison Hutchcraft, Stephen Kampa, Randall Mann, Jim McGarrah, Sinead Morrissey, Eleanor Paynter, Jon Pineda, Roger Reeves, Thomas Reiter, Brian Russell, Kevin Simmonds, Jordan Smith, Brian Swann, Sidney Wade, Charles Harper Webb, Marcus Wicker, Valerie Wohfeld, and Monika Zobel.
Nonfiction
Wendy Rawlings on weight loss
Translation
David Keplinger translates the work of Jan Wagner.
Reviews
Four reviewers (Jensen Beach, Peter Grimes, Alissa Nutting, and Suzanne Warren) award the Pulitzer Prize in fiction, and poetry reviewer Jacqueline Kolosov reviews poetry by Rusty Morrison, Collier Nogues, and John Rybicki.
Artwork
Nance Van Winckel and Sarah Walko