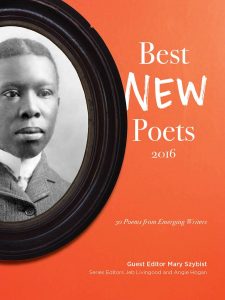 Continuing in the spirit of sending good vibes to our contributors, we are happy to announce our nominees for the Best New Poets anthology: Paige Lewis's "Jayne" and Jen Schalliol's "The Open Mouth" (both in issue 13.1).
Best New Poets is an annual anthology of fifty poems from emerging writers who haven't yet published a full-length book. Poets are nominated by writing programs and literary magazines (like us!), or they can enter an open competition after the first round of nominations. The book is distributed nationally as a University of Virginia Press title and produced in cooperation with Meridian, a semiannual literary magazine from the University of Virginia. Natalie Diaz is the guest editor this year. Check out the BNP site to find out more.
About our nominees:
Paige Lewis is an Assistant Poetry Editor at Narrative Magazine. Their work has appeared or is forthcoming in The Journal, Ninth Letter, and elsewhere.
Jen Schalliol, a Chicago native and Pushcart nominee, received her MFA from the School of the Art Institute of Chicago. Her chapbook, Means of Access, was printed through The Kenyon Review, and her work has appeared or is forthcoming in Salt Magazine, Landscapes, decomP, Gapers Block, RHINO, Farrago's Wainscot, and elsewhere.
Copies of 13.1 can purchased here.
Congratulations to our nominees – and good luck!