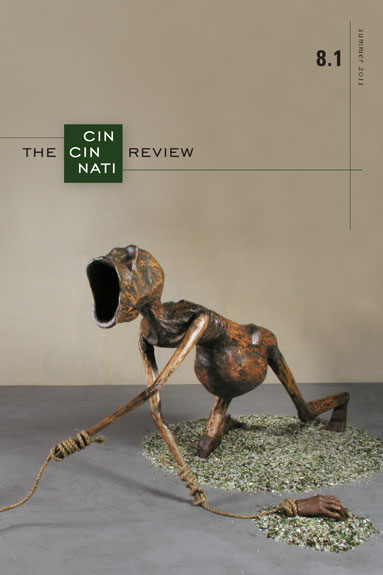 Word has it that the new issue is on its way! We're super excited—the cover, featuring Bill Wolff's sculpture More, looks great, and we have a terrific group of poems, stories, and essays from a wide range of writers. We'll be mailing it out in the coming days, but in the meantime we want to share some behind-the-scenes bonus material with you. We asked all of our contributors to comment on their pieces in our pages, and here's what Matt Schumacher, Meghan Kenny, and Murray Shugars had to say:
Matt Schumacher: "a dionysian outburst," the introductory poem in a book of fantastical drinking songs, chronicles an impossibly long and improbable list of drinks that the book's thirsty picaresque heroes, the miraculous alcoholics, have absolutely no business drinking. Considered as a poetic mixed drink, it consists of equal jiggers list poem, drinking song, and tall tale. And due in part to this poem, I've surmised that the impulse behind the book hearkens back to Dionysian tradition, whose various bards and philosophers have included Horace, Nonnus, Aristophanes, Walter F. Otto, and Friedrich Nietzsche. Writing these poems has led me to some wonderful reading.
Meghan Kenny: The theme of love is one I return to over and over again in writing. "Love Is No Small Thing" explores a woman in her mid-thirties who wants to be in love and be loved back, and wants to marry and have children, but is in a bad, dead-end relationship. I'm intrigued by how women who want to experience marriage and motherhood, but who have been unlucky in love, navigate and define themselves in our culture where marriage and motherhood is expected and the norm by a certain age and where it's easy to feel like a failure if you haven't experienced these rites of passage. I wrote this story because I often do not know how to navigate this time in life and where I fit in as a single, childless woman in my late thirties.
Murray Shugars: I wrote "Battle Rhythm of a Convoy Security Company" on Sunday, August 23, 2009, in my sleeping quarters at Contingency Operating Base Qayyarah-West, a former Coalition military post in northern Iraq near Mosul. I belonged to a Mississippi Army National Guard unit. Our mission was to escort logistical convoys across Iraq, and the men and women of our battalion operated Mine-Resistant, Ambush-Protected gun-trucks (MRAPs). The name of the vehicle implies the primary dangers to the convoys, which rotated in and out of our base as regularly as the dust twisters did that summer. I had just returned from such a mission when I wrote that poem. I was always tired when I got back from a mission—that goes without saying—but I could never sleep right away, being too keyed-up. I'd shrug off my body armor and set aside my weapon and often write something.
The Cincinnati Review is available for order through our secure online form.