With great jubilation, we'd like to introduce our new drama editor—the very first for The Cincinnati Review—Brant Russell, as well as our new venture, publishing plays-in-progress. With help from the Helen Weinberger Center for the Study of Drama and Playwriting, we're expanding what the CR publishes to include four genres.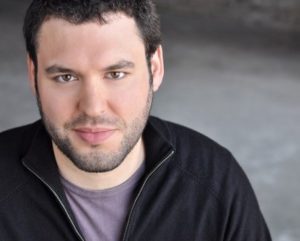 Brant knows his stuff: He's an assistant professor and resident director in the acting program at the College-Conservatory of Music at the University of Cincinnati, where he teaches Script Analysis, Artist in Society, and History of Directing; runs the CCM Playwrights Workshop; and directs. He has commissioned three world premieres for CCM: Todd Almond's The Earth is Flat, Gracie Gardner's Very Dumb Kids, and (the CR's premiere featured play!) MJ Kaufman's Association of Controlled Dreamers. Also at CCM, he has directed Boeing-Boeing (coproduction with The Carnegie in Covington, Kentucky), Macbeth, You're Welcome, Very Dumb Kids, Romeo & Juliet, and Love & Information.
In Cincinnati, he has directed Darkest Night at the Gnarly Stump and The Hunchback of Seville at the Know Theater. In New York, he's produced and directed The World's Fair Plays and Park Plays at Queens Theatre, where he also recently directed The Miracle Worker.
Originally from Chicago, Brant has worked for Steppenwolf, Chicago Shakespeare Theatre, Writers' Theatre, and others, and directed at The Side Project, Theater Seven, Next Theatre, Collaboraction, Signal Ensemble, and others.
He's also a writer himself: His short plays have been produced in Chicago and Cincinnati, and his new play, Litchfield, was just workshopped at Steep Theater in Chicago.
Our partnership with Brant and CCM expands on our initial foray into working with drama: our graphic play, Moth, part of our celebration of our tenth anniversary and sent as a gift to subscribers in 2014. Moth was written by playwright Declan Greene and illustrated by Gabe Ostley. You can read more about the making of it here, here, and here.
We're doing something different this time, focusing on the written page, which itself isn't quite right for drama, a fluid genre that's meant to be performed. We'll be focusing on works in progress, so we'll see them sometimes at an early stage, before or in between the performances and workshops that alter the plays. We're excited about this cross-college interdisciplinary collaboration—and already, we're benefiting from Brant's enthusiasm for our project together.
Here's what he has to say about coming on board:
"It's a bit weird, a theater director joining the staff of a literary magazine.  I work in time and space, and literature exists between margins.  My form is fluid and ephemeral, and literature is fixed.
But have you seen this literary magazine?  The accomplishments of the people whose photos populate the staff listing page, the quality of the work in the magazine's pages—how could I stay away?
We'll be featuring plays in progress in the magazine.  This series will give readers a glimpse into the creative process of a playwright at a time when it most mirrors the creative process of fiction writers, journalists, or poets: when they toil away on the page, creating a script for a theatrical event, rather than in the rehearsal hall, when we all collaborate to shape that event in the room together.
I'm thrilled to be joining this team, and I'm excited about sharing the work of some stellar writers."
Keep an eye out for issue 15.1 in May, which will include our first play-in-progress, MJ Kaufman's Association of Controlled Dreamers, also scheduled for a run at CCM in March 2019.
And if you're a playwright interested in visiting Cincinnati, consider registering for the CCM Playwrights Workshop, which will run from June 11-16!