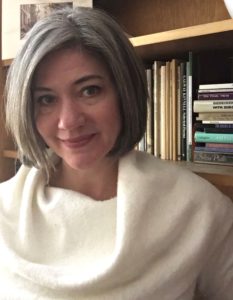 Today is a big day at The Cincinnati Review! We are blowing our bugles, banging our drums, and summoning our in-house bards to spread the news: Our new Poetry Editor Rebecca Lindenberg has started her tenure at the journal, and we couldn't be more jubilant to introduce her to our readers.
Managing Editor Lisa Ampleman speaks for all of us here at the CR when she says:
"We're so glad to welcome Rebecca Lindenberg on board, to maintain The Cincinnati Review's strong commitment to poetry in the wake of Don Bogen's retirement. With our partnership with Poets.org, the frequent appearance of poetry from our pages in the top anthologies, and the new ventures Rebecca has in mind, I know we'll continue to share some of today's best poems with our readers and other (wider) audiences. I look forward to working with her!"
A member of the poetry faculty at the University of Cincinnati, and in the low-residency MFA program at Queens University, Rebecca is the author of Love, an Index (McSweeney's 2012) and The Logan Notebooks (Center for Literary Publishing/Mountain West Poetry Series, 2014), winner of the Utah Book Award.  She's the recipient of an Amy Lowell Traveling Poetry Fellowship, a National Endowment for the Arts Literature Grant, a 2009-2010 residency fellowship from the Fine Arts Work Center in Provincetown, and a Dorothy Sargent Rosenberg Poetry Prize.  Her work appears in POETRY, The Believer, American Poetry Review, and many more.
Rebecca's innovative editorial approach includes creating space in the journal for hybrid projects, moving from a single translation feature to publishing multiple translations per issue, and inviting guest editors to collaborate on upcoming issues.
Here are Rebecca's own words about her bold vision for the future of the CR:
"I'm delighted and very excited to be joining The Cincinnati Review as poetry editor this spring.  Long before I came to teach at the University of Cincinnati, I admired The Cincinnati Review for the consistently impressive quality of the work in its pages, the range of voices and styles and approaches to poetry represented there, and its quiet but rigorous integrity, so much of which is owing to the passion and dedication of our outgoing poetry editor (now poetry editor-at-large), my colleague Don Bogen.
First and foremost, I aspire to continue the CR's commitment to publishing rich, interesting, surprising poetry from both talented emerging voices and exciting well-known poets, some of whom have perhaps already appeared in our magazine and many more who never have.  I am deeply committed to representing in our pages the diversity of voices that make up contemporary American poetry, to seeking out new points of view and unique ways of presenting them.
Toward that end, among other things, I hope to invite some guest editors to contribute to upcoming issues, and open some of our poetry pages to hybrid form projects as well.  I'm also very excited to move from a single translation feature to accepting and publishing multiple translations as often as we can, with a focus on living poets, thus widening the international lens of the magazine.
I can't wait to get started; I see this as the opportunity of a lifetime, a chance to lift up excellent poets and their work, and contribute in a meaningful way to the larger conversation of an art form to which I am unabashedly and enduringly devoted."
As we continue our long history of championing poetry at the CR, we share Rebecca's commitment to maintaining the journal's "rigorous integrity" and contributing "in a meaningful way to the larger conversation of an art form" to which she—and all of us—are "unabashedly and enduringly devoted."
A note to poets: We love starting off every new year at the CR with your poems in our hands, so gather up your best work and make sure to check out our updated submission guidelines by clicking here.
Vive la poésie!