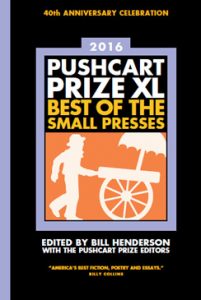 We both love and hate nominating pieces for the Pushcart Prize. With our allotment of a mere six selections, there are so many excellent stories and poems that we must leave unheralded. That's why we're thrilled to announce more Pushcart Prize nominations, this time stemming from the Pushcart contributing editors' choices. They've nominated six more additional pieces from our recent issues: two poems and four stories.
from issue 12.2 (Winter 2016)
fiction: Wendy Rawlings, "Restraint" & Josh Russell, "Our Boys"
from issue 13.1 (Summer 2016)
poetry: Andrea Cohen "Happiness" & "Tip"
fiction: Robert Long Foreman, "Awe" & Steven Sherrill "excerpt from The Minotaur Takes His Own Sweet Time"
Congrats to these worthy writers, and thanks to the editors for nominating these marvelous pieces!