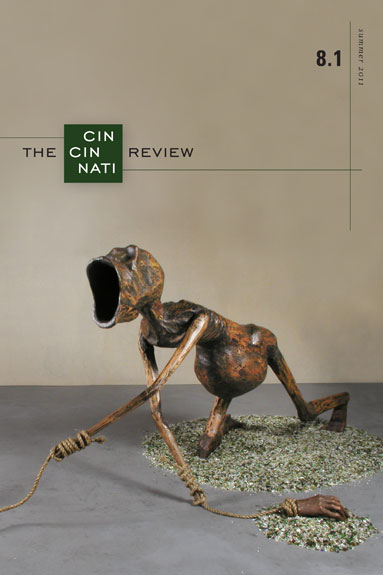 Fiction
Steve Amick, Craig Davidson, Jessica Hollander, Meghan Kenny, and Theodore Wheeler.
Poetry
Lavonne J. Adams, Joseph Bathanti, Cindy Beebe, Jaime Brunton, Micheal Chitwood, Terese Coe, Bruce Cohen, Christopher Deweese, Ben Debus, Rebecca Dunham, Laura Eve Engel, Tarfia Faizullah, Norman Finkelstein, Julie Funderburk, Robert Glick, Megan Grumbling, Jeff Gundy, Janice N. Harrington, Mary Kaiser, Josh Kalscheur, Vandana Khanna, Elizabeth Kerlikowske, Ashley Seitz Kramer, Tim Liardet, Bernard Farai Matambo, Eric McHenry, Frankie McMillan, Catherine Pierce, F. Daniel Rzicznek, Don Russ, Emily Viggiano Saland, Matt Schumacher, Murray Shugars, Chad Sweeney, J. R. Toriseva, Arthur Vogelsang, Jeanne Wagner, Adam A Wilcox, Lisa Williams, Jordan Windholz, and Valerie Wohlfeld.
Nonfiction
Alexander Chee, Jeff McNally, Keith Lee Morris, Leah Stewart, and Justin Tussing reassess the 1961 National Book Award for fiction.
Artwork
Installations in copper, wood, and other media by Bill Wolff. (Click on cover for larger image).