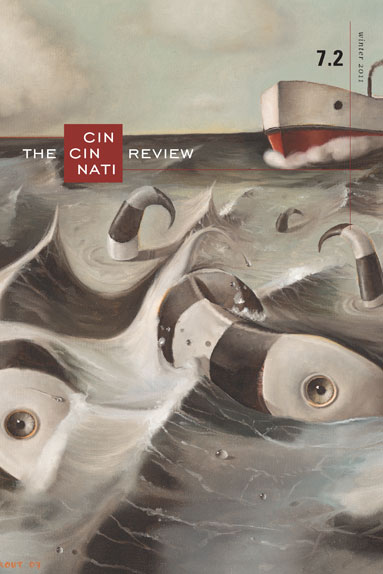 Fiction
Peter Levine, Alexander Lumans, Keith Lee Morris, Claire Harlan Orsi, Matthew Pitt, and Anthony Varallo.
Poetry
Kathleen Aguero, Dick Allen, Julianna Baggot, Jaswinder Bolina, Michael Bradburn-Ruster, Richard Cecil, Joseph Chapman, Andrea Cohen, Gillian Cummings, Susan Davis, Brandel France de Bravo, Meredith Davies Hadaway, Matt Hart, David Hernandez, Bob Hicok, Joy Katz, James Kimbrell, Richard Lyons, Randall Mann, Melanie McCabe, Orlando Ricardo Menes, Travis Mossotti, Eric Pankey, Sarah Perrier, Lynne Potts, Dean Rader, Tomasz Rozycki, Adam Scheffler, Martha Silano, Jeff Walker, Eric Weinstein, Kathleen Winter, and Kirstin Hotelling Zona.
Nonfiction
Dean Bakopoulos, Sarah Shun-Lien Bynum, Charles Lamar Phillips, Mira Rosenthal.
Reviews
Three reviews of Aimee Bender's The Particular Sadness of Lemon Cake by Ron Currie Jr., Sarah Domet, and Elizabeth Rollins.
Review of C.S. Giscombe's poetry by Robert Archambeau.
Artwork
Artwork by Tobin Sprout.