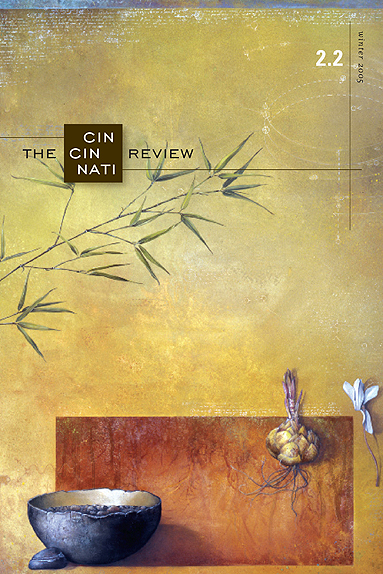 Fiction
Mick Cochrane, Ronald F. Currie Jr., Tao Lin, Antonya Nelson, Edith Pearlman, and Kevin Wilson.
Poetry
Kathleen Aguero, Robin Becker, Gaylord Brewer, Geoffrey Brock, John Canaday, Billy Collins, Jim Daniels, Terri Ford, Allison Funk, Rachel Hadas, Cathryn Hankla, Geoffrey Hill, Mary Kaiser, James Kimbrell, Richard Lyons, Michelle Margolis, Khaled Mattawa, J.D. McClatchy, Michael McFee, Marilyn Nelson, James Norcliffe, Ethan Paquin, Kevin Prufer, Barbara Ras, Hugh Seidman, David R. Slavitt, Tom Smith, Sue Standing, Sally Van Doren, Ellen Wehle, Joshua Weiner, and William Woolfitt.
Essay
Rosanna Warren
Reviews
A Tribute to Saul Bellow by Sam Anderson, Heather Hepler, and Brad Vice.
"Incantation and Analysis": Nancy Kuhl reviews Sasha Steensen's A Magic Book and Julie Carr's Mead.
Artwork
Lynda Lowe