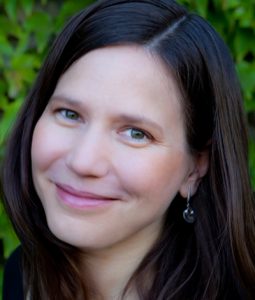 Mary Szybist is UC's 2015 George Elliston Poet-in-Residence. Last Tuesday, January 13, Szybist held a Master Class titled "The Concessional Structure" on the multifarious ways in which poems turn. The following day she led a session for students enrolled in the graduate poetry workshop, offering praise, helpful suggestions, and thoughtful critiques of student work. On Friday, January 16, Szybist read poetry from Incarnadine, which won the 2013 National Book Award for Poetry, stunning the packed Elliston Poetry Room with an elegy for Donald Justice, a former Elliston Poet-in-Residence, as well as her imaginative reinterpretations of the annunciation myth.
Explaining her workshop strategy, Szybist says: "I usually make the first day of my workshops a sort of quick 'lightning' round; rather than delving into extended discussions of poems, I try to have everyone's voice included in the first day with much of the focus on trust-building. Everyone reads a poem, everyone has a poem considered; I ask for descriptions, interpretations, compliments, etc.—no criticism, no suggestions. I want everyone to trust that we're trying to see what each poet is up to before we venture into revision ideas."
Szybist will return to Cincinnati on February 27 to work with graduate students one on one, lead another workshop, and deliver a second Master Class titled "Repetition and Resonance," the latter at 4:00 p.m. in the Elliston Poetry Room, 646 Langsam Library. This lecture will be free and open to the public.
Mary Szybist is most recently the author of Incarnadine, winner of the 2013 National Book Award for Poetry. She is the recipient of fellowships from the Guggenheim Foundation, the National Endowment for the Arts, the Rona Jaffe Foundation, the Witter Bynner Foundation in conjunction with the Library of Congress, and the Rockefeller Foundation's Bellagio Center. Her work has appeared in such publications as Best American Poetry, Kenyon Review, Poetry, Ploughshares, and two Pushcart Prize anthologies. Her first book, Granted, won the 2004 GLCA New Writers Award and was a finalist for the National Book Critics Circle Award. A native of Williamsport, Pennsylvania, she now lives in Portland, Oregon, where she teaches at Lewis & Clark College.