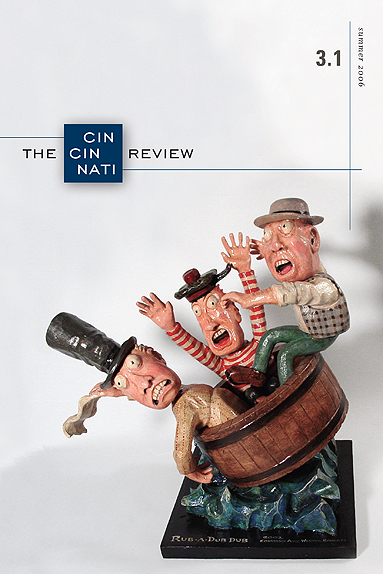 Fiction
Steve Almond, Chris Bachelder, Greg Baxter, Stephan Clark, Lucy Corin, and Caitlin Horrocks.
Poetry
Seth Abramson, Angela Ball, Abigail Cloud, Leigh Anne Couch, Chard de Niord, Norman Finkelstein, Jennifer Grotz, Beth Gylys, Richard Hoffman, Laura Hope-Gill, Jennifer Juneau, John Kinsella, Elizabeth Langemak, Jeanne Larsen, Sandy Longhorn, Cate Marvin, Jeff Mock, Rafael Oses, Eric Pankey, Carl Phillips, Keith Ratzlaff, Thomas Reiter, Donald Revell, Michael Robins, Jerry Roscoe, Doug Sanders, Adam Sol, Sharmila Voorakkara, Sidney Wade, and Art Zilleruelo.
Essay
James Olney
Reviews
Three reviews of George Saunders's The Brief and Frightening Reign of Phil by Steve Caldes, Margaret Luongo, and Anthony Varallo.
Review of James McMichael's Capacity by Jennifer Clarvoe
Review of Eamon Grennan's The Quick of It, Eric Pankey's Reliquaries, Carl Phillips's Riding Westward, and Pattiann Rogers's Generations by Jason Gray.
Artwork
Connie Roberts and Richard Olney